Well Care Health – WEEKLY EMPLOYEE UPDATE
Wednesday, July 8, 2020
COVID-19 IMPACT
Infection Count
(Source: Johns Hopkins)
Total Cases in the U.S.- 2,998,177
Total Deaths in the U.S.- 131,521
Total Recovered in the U.S. -936,476
Total Cases in NC- 76,847
Total Deaths in NC- 1,450
Total Recovered in NC -55,318
Total Cases in SC- 47,352
Total Deaths in SC- 846
Total Recovered in SC -19,181
COVID-19 COUNTY IMPACT:
For specific county totals, please click on the links below:
https://www.ncdhhs.gov/covid-19-case-count-nc
https://www.scdhec.gov/




Workday Tips & Frequently Asked Questions
All employees will use Workday for PTO requests (which will automatically flow to the manager for approval).
Clinicians do not need to enter time into Workday, just PTO requests.
You can't use the Workday app to submit PTO until the update happens in September. Please use the shortcut on your desktop or the URL to access Workday when submitting PTO. https://www.myworkday.com/wday/authgwy/wellcarehealth/login.htmld is the Workday URL.
If you want to download the app, the ORG ID is wellcarehealth.
All admin employees (hourly and salaried) will have to log in to Workday, review, and submit their time each pay period. For salaried employees, that time will automatically populate, but you will still need to review and submit your time.
Try and login to Workday frequently so you can see if you have any messages or alerts (this especially applies to managers, who may be getting alerts about an employee's time or PTO request).
Field Clinicians will also enter PTO as a Non-Visit Activity in HCHB, and their manager will approve it there as well, along with the Team Assistant blocking their calendar. There is no other notification required on the clinician's part after the entry.
If you have questions about working on a holiday or holiday pay, please direct those to your manager.
New employees not past their 90 days will need to have their manager enter this in Workday as non-paid PTO.
If you are unable to login to Workday, please submit an IT ticket to IT@wellcarehealth.com.
Please make sure and visit and read through the Workday Team and Channels in Microsoft Teams. There you will find FAQ, Workday Resources, and more!

EMPLOYEE KUDOS
KUDOS to Sierra Fleming, Clinical Assistant, Raleigh Branch
"Kudos to Sierra Fleming: Without hesitation, Sierra will jump in and assist whenever I reach out to her for help. She took a verbal order for a patient who was not a part of an RDU Team and assisted the caller perfectly (according to the caller). I am really very happy to be able to call on her and to know that if she can assist, she will. Thank You Sierra, you are a star among many here at Well Care!"
#ITC PIC OF THE WEEK!
WELCOME HOME
Genevieve Williams, Home Care Branch Manager, welcomed home her husband, Staff Sergeant Matthew Williams (SSG Matthew Williams, Unit Bco 1-120 IN, US Army National Guard) last week!
A happy moment for all, Matt arrived home to Jacksonville last week after being deployed for over a year (14 months). Welcome Home!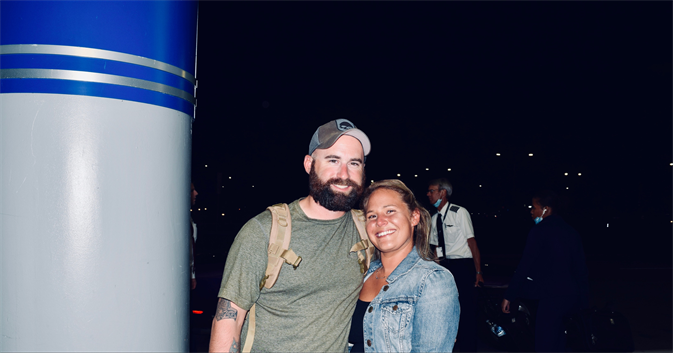 PPE UPDATE
As you know, there has been a steady increase in the number of reported COVID-19 cases across the Carolinas. Additionally, many exposures also occur when individuals are pre-symptomatic.
To further protect our employees and our patients,
we will now require that clinicians wear eye protection on all home visits (effective immediately).
Eye protection is required even if the clinician wears eyeglasses (the shield will fit over eyeglasses). Clinicians will still be required to wear a mask for each visit as well. This change will help ensure our clinical teams and patients' safety and will
exceed
the CDC's recommended safety guidelines. Clinicians will also be required to clean their eye protection after each visit (in the same manner that they clean their other equipment) unless it is cracked, damaged, or contaminated.
Each clinician will be receiving one set of frames and two shields. Additional supplies are readily available and can be distributed as needed. If a clinician has their own eye protection equipment (not eyeglasses) that they would like to use, they should contact John Kabler to confirm that it meets CDC/OSHA guidelines for eye protection. In addition,
if you need additional eye protection supplies, please contact your Clinical Manager.

MANDATORY OFFICE SAFETY PROCEDURES:
For your safety and the safety of your colleagues, please follow the procedures below when visiting any Well Care location.
Our Well Care offices are still technically closed, so please notify your DOO or Branch Manager before visiting any office location.
When in the office and away from your desk, you must wear a cloth mask. This includes when you are entering and exiting the office, in the elevator, stairwell, etc.
If you are sitting at your desk and are unable to social distance (6 ft) from another employee in the office, you will need to wear a cloth mask.
If for some reason, you have to use a meeting room or other community space (i.e., breakroom), and another employee is using that space with you, you must both wear a cloth mask, and you should also practice social distancing (6 ft).
If you are feeling ill or exhibit any COVID-19 symptoms, please stay home and don't stop by the office for any reason.
Use the provided hand sanitizer when entering and exiting an office, after touching common surfaces, and if you cough or sneeze.
Please minimize your time inside the office. Complete the task that caused you to come in (picking up supplies, dropping off a file, etc.) and then leave the office as soon as possible. Please do not linger or socialize with other staff members.
Any exceptions to these safety procedures must be approved by Human Resources and your direct supervisor in advance.
We also encourage you to follow CDC safety guidelines when you are not at work. Please wear a mask when you are out in public, social distance (6ft), and more. Click for details.
QUARANTINE TIPS & ACTIVITIES:
Summer is not completely canceled. Here are 100 things we can do with or without kids
43 Fun Things to Do This Summer While You're Social Distancing
40 Free & Fun Things to Do This Summer
20 4th of July Activities To Enjoy On This Patriotic Summer Holiday
18 4th of July Activities to Keep the Family Entertained All Day
The Hamilton Movie Is Being Released on Disney+ a Year Earlier Than Expected

IT UPDATE - URGENT IT NEED? Give them a call…
If you need IT assistance, please send in a Help Ticket by emailing
IT@wellcarehealth.com
. If you have an IT matter that is an urgent need,
you can also call IT at 877-827-6787, and you will be connected with an IT representative.
EMPLOYEE UPDATE
All information in the Well Care Health Daily Employee Update email is intended for the use of Well Care Health employees only. An effort is made to ensure all information and data is correct and current at the time of issue. Corrections to updates, if necessary, will be shared via future email communications. Due to the fluid nature of the COVID-19 crisis, information and data are rapidly changing and may be updated before this email is received.